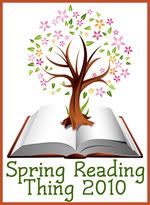 Here is my finished reading list for the Spring Reading Thing.   I'd really hoped to add a lot of extra books on, but sadly only tacked on one to the list!
Homeschooling for the Rest of Us, by Sonya Haskins ~read my review here~
The Supernatural You, by Brenda Junneman
Farraday Road, by Ace Collins
Swope's Ridge, by Ace Collins
Fit to be Tied, by Robin Lee Hatcher
The Power of Your Words, by Billy Joe Daugherty
Music and Morals, by Kimberly Smith
I'm Mad About You, by Mack & Brenda Timberlake
Friendships for Grownups, by Lisa Whelchel ~read my review here~
I somehow failed to notice that Farraday Road was the first book in the series, and ended up reading Swope's Ridge first.  I'll have to wait until I forget the storyline in Swope's before I can start Farraday now.  Sigh….
Oh well, there's always the summer reading program at the library to help me get through my list!   Be sure to stop by the Spring Reading Thing Wrap Up to see how everyone else did on their reading lists.