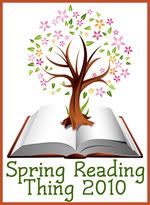 Reading is something I love to do! I can sit down and plow through a good book in a couple of hours. My problem is making time for reading. I get so busy with the business of life, that I often neglect the pile of books calling to me.
So in an attempt to correct this problem, I'm made my official list for the Spring Reading Thing.
Here is my list:
Bible
- read more!! The one Book that has all the answers to all the questions is often the one that gets squeezed out of the picture by business. This DEFINITELY needs to be the first priority.
Homeschooling for the Rest of Us
, by Sonya Haskins
The Supernatural You
, by Brenda Junneman
Farraday Road
, by Ace Collins
Swope's Ridge
, by Ace Collins
Fit to be Tied
, by Robin Lee Hatcher
The Power of Your Words
, by Billy Joe Daugherty
Music and Morals
, by Kimberly Smith
I'm Mad About You
, by Mack & Brenda Timberlake
Of this list, five of these books are for review, which explains why they are of such varying genres.
To view everyone else's list,
click here.